Jim Worthey • Lighting & Color Research • jim@jimworthey.com • 301-977-3551 • 11 Rye Court, Gaithersburg, MD 20878-1901, USA
EXPERIMENTS ON COLOUR,
AS PERCEIVED BY THE EYE,
WITH
REMARKS ON COLOUR BLINDNESS.
BY


JAMES CLERK MAXWELL, B.A.,
TRINITY COLLEGE, CAMBRIDGE.

FROM THE
TRANSACTIONS OF THE ROYAL SOCIETY OF EDINBURGH, VOL. XXI., PART II.


EDINBURGH:
PRINTED FOR THE SOCIETY BY NEILL AND COMPANY.

MDCCCLV.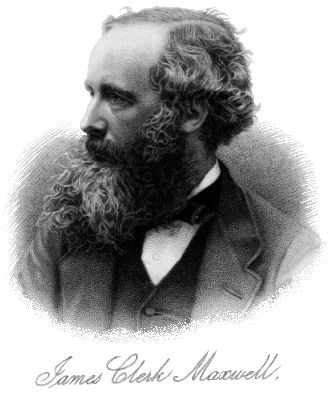 James Clerk Maxwell

(13 June 1831 – 5 November 1879)



The complete article is available
as a pdf file, 1.6 MB = 26 page images.
The page images contain text that was created by optical character recognition.
The typed text by itself is available as an
OpenOffice.org file, Maxwell1855.odt or an MS Word file, Maxwell1855.doc .




Item




Original Page Number




pdf page & link



title page: "Experiments on Colour as Perceived by the Eye, with Remarks on Colour-Blindness"

none

1

XVIII -

Experiments on Colour, as perceived by the Eye, with remarks on Colour-Blindness.



275

2


Investigation of the Law of the Perception of Colour



279

6


On a Graphical Method of Exhibiting the Relations of Colours



279

6

Further consideration of the Diagram of Colours



282

9


Theory of the Perception of Colour



283

10


Testimony of the Colour-blind with respect to Colour



284

11

Note I.:

On different Methods of Exhibiting the Mixtures of Colours.


(1.)

Mechanical Mixture of Coloured Powders.



288

15

(2.)

Mixture of differently-coloured Beams of Light by Superposition on an Opaque Screen.



289

16

(3.)

Union of Coloured Beams by a Prism so as to form one Beam.



290

17

(4.)

Union of two beams by means of a transparent surface, which reflects the first and transmits the second.



290

17
(5.)

Union of two beams by means of a doubly-refracting Prism.



291

18
(6.)

Successive presentation of the different Colours to the Retina.



291

18
(7.)

Presentation of the Colours to be mixed one to each Eye.



293

20
Note II.:

Results of Experiments with Mr Hay's Papers, at Cambridge, November 1854.



293

20
Note III.:

On the Theory of Compound Colours.



294

21
Note IV.:

Description of the Figures. Plate VI.



298

25
Plate VI, Figures 1-6.

none

26
To start at a desired section, click its link to open the article. After that, you must scroll in the normal way. Thanks to the embedded text, you can also search for words or numbers, keeping in mind that text from OCR will not be 100% accurate.



Thanks for help on this article: Carol Thomas obtained a pdf that had only the page images. James Larimer had the needed software and did the optical character recognition (OCR) so that now you'll find text embedded in the images. At about the same time, the text was typed in by Patrick Kirol, also known as Sun Wu Kong. JW
Jim Worthey Home Page: http://www.jimworthey.com .



Copyright © 2006 James A. Worthey, email: jim@jimworthey.com
Page last modified, 2008 October 4, 01:50